+38067-644-44-43
+38095-224-57-97
Mon-Fri: 9:00 - 18:00; Sat: 10:00 - 17:00
Ukraine, Dnipro, Troitskaya st. 3, of. 5
Ukraine, Kyiv, Velika Okrugna st. 4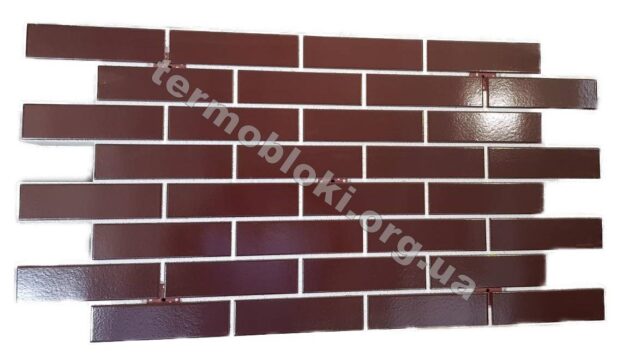 Thermal panel CERRAD WISNIA glazed
Article: 0118003
The price is for 1 sq.m. Thickness of a heater - 40 mm. The area of one thermal panel is 0.6 sq.m. Thermal panels with insulation thickness 40, 50, 60, 80, 100 mm are available. Specify the price of thermal panels with different thicknesses of insulation by calling the numbers indicated on the website. Thermal panel CERRAD WISNIA glazed - color cherry glaze. Delivery throughout Ukraine, Kiev, Kharkiv, Donetsk, Odessa, Lviv, Cherkasy, Kirovograd, Krivoy Rog, Uzhgorod, Chernihiv, Zhytomyr, Lutsk, Mariupol, Nikolaev, Sumy, Vinnitsa, Rovno
Thermal panel CERRAD WISNIA glazed
When we talk about CERRAD clinker tiles for thermal panels, it is impossible to ignore the glazed CERRAD WISNIA thermal panel. Matte and frost-resistant clinker tiles in the color of ripe juicy cherries will be an excellent solution for decorating a facade in a classic style.
Основным преимуществом данного оттенка является универсальность, - это значит что он отлично The main advantage of this shade is its versatility, which means that it goes well with other tones, especially dark brown and coffee. In addition to exceptionally aesthetic properties, heat panels with Country Wishnya facade tiles can also boast excellent performance characteristics. If you are interested and ready to buy glazed Cerrad WISNIA thermal panels, we will prepare the best price offer for you.
Still have questions? We will call you back!
Get a free consultation on home insulation by ordering a call back right now!
Leave your phone.
We will contact you soon